Chamber Gift Certificates

The Chamber Gift Certificate Program has been in existence since the mid 1980's. We sell Gift Certificates and they can be redeemed at participating member businesses (currently around 140 businesses participate). We sell nearly $200,000 worth of certificates every year, meaning all of that money stays in Macomb!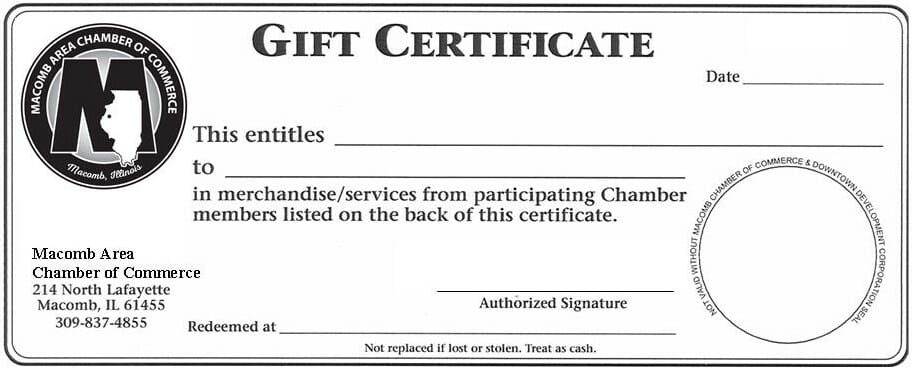 Who can accept gift certificates?
Only Chamber members who opt in to the Chamber Gift Certificate Program can accept certificates. Any Chamber member can opt in at any time, so you would like to be added to the list of over 140 area locations, simply contact us to add your business. We can be reached at (309) 837-4855 or info@macombareachamber.com.
How do I buy gift certificates?
There are two (2) ways to purchase Chamber Gift Certificates:
Purchase them in our office (214 N. Lafayette St.)
Purchase them at any of these participating banks:
- Clock Tower Community Bank
- First Bankers Trust Company
- Fortress Bank
- MidAmerica National Bank
- United Community Bank
You may also call or email ahead if you are going to place a large order to ensure your certificates will be ready in a timely manner. We can be reached at (309) 837-4855 or info@macombareachamber.com.
What increments do they come in?
Chamber Gift Certificates can be sold in any amount, though it is recommended you keep each one under $50. For instance, if someone would like to purchase a $100 certificate, we ask them to purchase four $25 certificates or two $50 certificates so that our members do not have to give back too much change. You may still see them for larger amounts if they were purchased outside of our office.
No, they never expire. If you find an especially old certificate, you can bring them to our office at 214 N. Lafayette St. to exchange them for a current certificate.
How can I help promote the Chamber Gift Certificate Program?
We love when our members and the community help #keepitinmacomb by promoting the Chamber Gift Certificate Program. There are several ways you can do this:
Buy them for your employees: Are you looking for the perfect gift or incentive for your employees? Chamber Gift Certificates are a win-win since a) your employee will be happy to have a certificate to spend however he or she would like, and b) you are keeping that money right here in the Macomb area.
Buy them for family, friends, teachers, mail delivery workers, and anyone else you can think of. Same reasons as above.
Tell people about them. Friends and family are always looking for gift suggestions, so why not chime in with the perfect idea.